The mobile gaming industry has been living its best moment in the last year, games of every type and genre have been announced and launched all over the planet. Classics have been remade and mainstream PC games have been recreated for mobile devices. However, humoristic games are never out dated, who doesn't enjoy a good laugh while travelling to work, right? In the middle of so many shooting and adventure games, the comical genre becomes harder to spot but that's no tough challenge for Unigamesity.
1. Angry Birds Space
The Angry Birds series are not exactly new; the first game was published back in 2009 by Electronic Arts. The success was worldwide and new games and expansions were developed in the meanwhile. The latest release of the series is Space developed by Rovio Entertainment. In this new adventure, Angry Birds enter in a search mission for their missing eggs and end up being swallowed by a worm hole that teleports them to another galaxy surrounded by space pigs. In Angry Birds Space, boss fights are featured and there are around 60 interstellar levels to accomplish at zero gravity.
2. Run Cow Run!
A very fresh title by Bengigi Studio, Run Cow Run! is an hilarious run and catch game.  There are several gaming modes and features to explore. Escaping the mad farmer and help other animals escaping are two of the many things you're able to do. Run Cow Run! makes an excellent food satire about the dilemma of eating animal's meat. There are numerous levels and collectable buffs too.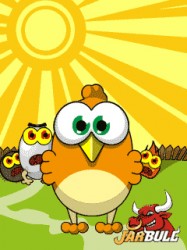 3. Funny Chicken
Funny Chicken is a JarBull's title resembling PacMan. In this chicken world you need to catch all the eggs and escape the deadly wolves. As easy as it seems the paths may not always lead you into the best ways. The labyrinth's difficulties scale as you level up and enemies become more vigilant. There are several bonuses that spawn randomly in the map, such as increased speed and time bonus.
4. Well, Just You Wait: Wolf and New Eggs
This is a russian title by NetLizard that features a wolf and eggs. In this catching title, you're a lovely canine who has to catch as many eggs as possible. There's three to four main trays dropping eggs constantly, making things very difficult for your catching mission. Avoiding bombs and other malicious objects and catching bonuses is also part of the challenge. The game offers several modes, difficulties and maps. The game's style combined with its unique graphics and music tracks turns this mobile entertainment piece into a decent parody, at least for a while.
5. Poodle Bounce
Poodle Bounce is an arcade game by Baltoro Game Studios, where a crazy fluffy dog has to jump around to catch its favorite meal, craving bones. The game presents a unique combo system in order to get the highest bounces. As every arcade you have too few lives and a hard time suppressing your top score.
And these are the recommended titles. We hope that you have an amazing time playing this hit games in the making!