Though Virtual Reality Games are thrilling and enhance our gaming experience to a whole new level, they put a lot of burden on our computer and hardware. To counter this while keeping the smooth and lag-free gameplay, we need a good graphics card to support the uninterrupted and smooth running of the game on our computer system and still keeping it cool even after hours of playing.
But there are so many options out there that it might be a little difficult to ascertain the graphics card best suited for your needs. After all, different VR headsets have different sets of requirements, and no shoe fits all.
So here are 5 best graphics cards that are not only powerful and able to deliver a seamless experience, but are also able to keep up with your headset requirements with no trouble at all. Check them out, and you might find the graphics card meant to go with your system and VR!
Top 5 Best Graphics Card for VR
As a part of AMD's Radeon RX 5000 Series, this graphic processing unit is certainly worth a shot. It comes with a lot of convenient features like the 448 GB/s memory bandwidth, which, along with high-speed GDDR6 memory, ensures smooth gameplay even with the more demanding VRs.
Maybe one of its most distinct features is the 7 nanometer (nm) Navi Architecture, which is the first example of AMD's RDNA Architecture designed for efficient and flexible computing. This makes it possible to use this GPU across a number of gaming platforms. 
It comes with a metal exoskeleton to facilitate heat dissipation, but in retrospect, its cooling capacity remains insufficient.
Pros:
It comes with a reasonable price without cutting corners on essential features, and that is a great plus for the gamers with tight budgets. 

It can be used with a variety of VR headsets.

It also comes with HDMI as well as DisplayPort connectivity.
Cons:
It doesn't have NVIDIA's RTX features, so if you are looking for Ray Tracing, this might not be what you are looking for.

It heats up quickly due to insufficient cooling and may cause the system to crash.

Though it is a relatively silent GPU, it is certainly not the quietest, and some gamers might find it distracting.
---
It comes with all the features that NVIDIA is known for, whether it's the RTX features like Ray Tracing or good quality silicone used in the manufacturing process. It has a beautiful design and really satisfactory performance, owing to efficient 12 nm architecture and GDDR6 RAM.
This GPU is efficient in cooling down too, which minimizes the load and any kind of damage to the system. It is perfect for high-resolution gameplay, and you can easily experience smooth gaming even at 1080p and 1440p. 
If you had experience with NVIDIA GeForce RTX 2070 prior to this, you could imagine its capacity to deliver since it's an upgraded version of its predecessor.
Pros:
It is a lot quieter than its competitors, and the fans work silently.

This unit comes with HDMI connectivity, DisplayPort, and USB C-Type port (VirtualLink Output) as well.

It is very easy to install this product.
Cons:
It is more on the expensive side, but if you are someone with a generous budget, this GPU might be one of the best options for you.

It also has a few high requirements, including a minimum of 750 W power supply and 6-pin and 8-pin connectors, so make sure to read all the specifications before going ahead with the purchase.
---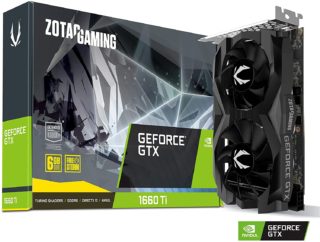 This GPU uses NVIDIA's Turing Architecture, which comes with real-time ray tracing and programmable shading along with AI-enhanced features. Simply put, it's efficient and works smoothly with the majority of the systems. It also has a 6 GB 192-bit GDDR6 Memory, which might seem smaller as compared to some of the other similar products.
One of its most notable features is the compact design that makes it compatible with 99% of the systems and does nothing to hinder its smooth operation, even under high load. You can easily experience 4K with this unit without much trouble but don't expect longevity with this one. Despite being smaller in size, this graphic card has dual slots and also HDMI and DisplayPort.
Pros:
It is more on the affordable side.

It is very easy to install and fits perfectly with the majority of the systems.

It has an efficient cooling system and doesn't overheat much.

It also is relatively quiet, so there are fewer chances of getting distracted while gaming.
Cons:
This unit is slightly slower than other regular-sized graphic cards, though the difference is not much and doesn't affect the gameplay usually.

It does have a few specific requirements like an extra power supply and the need to upgrade the system BIOS before it can run smoothly.
---
Claimed to be the 'Fastest Single Graphics Card in the World,' this GPU is certainly fast enough and provides an improved gaming experience. It has an impressive clock speed and significantly higher Frames per Second (FPS).
Being the first GPU to use the Pascal architecture, it is no doubt an improved version of its predecessors when it comes to performance and heat generation. It is also energy efficient and uses only one power connector. With 320 GB/s memory bandwidth, you can easily play 4K (or 1440p resolution) games with it without any lags or glitches.
Pros:
It has an efficient cooling system.

This unit works pretty quietly.

It comes with dual slots as well as DisplayPort, HDMI, and DVI.
Cons:
It is more on the expensive side.

Not as light as some of its competitors, especially AMD.

This GPU is meant for desktops and can't be used with laptops.
---
This GPU makes use of Turing architecture as well and has real-time Ray Tracing, which enhances the gaming experience. It comes VR ready and works with realistic graphics and a 360-degree image capture, which just adds more to the entire experience, and the gameplay is smooth with zero lags to boot. Even with settings maxed out in 4K, it performs just as well.
It has an 11 GB 352-bit GDDR6 Memory, supports dual monitors, and has a good cooling system with three alternate spinning fans, but it might be wiser to not rely on them too much. 
The metal plate at the back also protects the sensitive hardware, and it comes with HDMI and DisplayPort as well. Also, when it comes to speed, this unit is no doubt one of the best and is, in fact, known for it.
Pros:
It comes with a 4-year warranty, though you would just get a replacement and not a refund.

Even under full game load, it works quietly and rarely makes much noise.

You can game for hours straight without much complications.
Cons:
This GPU is really expensive.

Its size is big, and so if you prefer more compact graphic cards, you might need to skip this one over.

Fan control of this unit is not very good, and the fan speed doesn't lower regardless of the temperature.
---
Conclusion
So these were my choice of best graphics cards that are suitable for a wide range of systems and conditions. Gaming, specifically Virtual Reality, has always been popular and will only get more popular in the near future. But to actually enjoy them to the utmost, we need the correct as well as reliable supporting software and hardware. 
Though without a doubt, Radeon and NVIDIA dominate the current gaming accessories market, and for a good reason too, there are still a lot of options that are worth looking at. After all, you might find the graphic card just perfect for you and your gaming system among these other hidden gems. 
I don't have a personal favorite that I would recommend you to absolutely go for, but that's only because no two gamers are the same, and so their equipment and gaming systems and accessories, whether VR or regular, will be slightly different as well. So take your time in going through the GPUs listed here and others that might catch your interest, and go for the one that seems perfect to you.
Happy Gaming!