What a better way to stand out from the gaming crowd that with a cool gaming logo? Having an established brand makes you look professional from the beginning, which makes it easier for you to gain more followers and even land some sponsorships!
Choosing the best gaming logo for you is a hard task. We want to make it simpler for you with this list of 15 logo styles that gamers love to add to their channels.
Fantastic Characters Logos
Make all kinds of fantastic characters to star in your logos. Create characters like unicorns, dragons, and just a whole lot of magical creatures to light up your next esports logo!
Anime Characters Logos
Are you an anime fan? Then you will love this! There are tons of anime characters you can use to give your logo a new Japanese feel to it.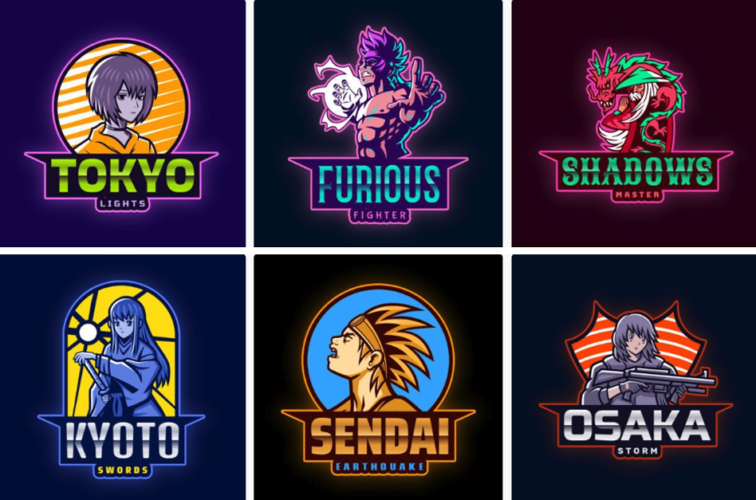 Animal Characters Logos
You can surely find any animal on this gaming logo maker. Fierce wolves, lions, eagles and much more to create your logo right away!
Armed Logos
If you are looking for an armed character with all kinds of different weapons, or simply a weapon logo with no characters at all, you can find both with this logo style.
Shield Logos
You could also go for a more classic look and design an awesome logo for all your games using classic embed layout.
Dark Character Logos
Darker characters also look fantastic on a gaming logo! You can use zombies, vampires, undead, ghosts and more! Find all kinds of different logo styles with dark themes.
Avatar Logos
How about creating your own custom avatar to put right there in your logo! Using this Avatar maker you can make a completely customized logo to represent yourself.
8-Bit Logos
Feeling nostalgic? Make a retro logo to keep it classic! You can find tons of retro designs to make a vintage gaming logo.
Cartoonish Logos
From cute little creatures to cool skating aliens, you can find a wide variety of fantastic cartoonish characters to create your design using this logo design maker.
Female Characters Logo
Time for some girl power! Make a logo for your gaming channels showing tons of different feminine characters that you can fully customize to create a unique design.
Male Characters
Same story here, if you are looking for a male character to star in your logo design there are just infinite options to find a template that is perfect for you!

Roblox-Styled Logos
If you are a fan of this game you may want to get your Roblox-styled logo! There are tons of super cute graphics to customize your design just the way you want it.
Minecraft-Styled Logo
Fans of Minecraft, this is just for you! Get a gaming logo that you will love with Minecraft-styled graphics than you can custom in just a few clicks.
GTA-Styled Logos
GTA drivers get an awesome logo for your game with this GTA-styled logos. Find cool drivers characters and cars to make a design that is perfect for you.
Call of Duty Styled Logos
What about Call of Duty? Is this your game? Well great news, you could also design a CoD-styled logo using these templates!
Now Over to You
So once again, creating your own gaming logo is an important part of your personal gamer brand. The most important, actually, it gives you a certain maturity which is great to find a team, promote a team and even get sponsored. Also, the beauty about Placeit apart from its gigantic library of logo templates, is that you can also find Animated Logos too! Give your logo some movement. Using an online logo generator for your designs will only make your life so much easier.