Spectating professional CSGO matches is a great pastime. However, you can take the experience to another level by betting money on it. Here's the kicker: you don't even have to be out of your friends to bet on CSGO matches. Thanks to the presence of Esports betting sites, you can start betting on your favorite teams. Today, we're taking a look at how to bet on CSGO matches online.
How to Bet on CSGO – The Rundown
Do you want to bet on CSGO matches right away? Here's a quick rundown to help you get started ASAP.
Look for a reliable esports betting site that covers CSGO matches.
Secure a reliable (and safe!) payment method.
Plan on which matches you want to bet on.
Enjoy the game, and decide whether you want to bet again (or cash in!)
Sounds simple right? In this case, it probably is! Let's dive a bit deeper into each of these steps, shall we?
Step 1 – Finding a Legit Esports Betting Site
Sure, we're betting for the sake of entertainment. However, there's still going to be plenty of money and information involved in the process. That being said, you'd want to make sure you're betting via legit Esports betting sites.
Aside from being legit, you'd also want a betting site that provides a user-friendly experience. After all, you want to be watching the game instead of sifting through window after window. Obviously, a good Esports betting site should also support the most reliable payment methods.
Sifting through hundreds of betting sites can be a chore. This is why we took it to ourselves to find a collection of the best CSGO betting sites available. The sites on that list have the necessary stuff you need to start betting on matches!
IMPORTANT: Some countries have stricter regulations on online betting. Check your local laws to see if registering on a website is allowed in your region.
Step 2 – Secure a Reliable Payment Method
Being careful with your cash is a must, even when betting on a legitimate CSGO betting site. A lot of websites support credit or debit cards, but we recommend using services such as PayPal, Skrill, Payoneer, or Venmo (among others). Using these services adds another layer of security when making a deposit or cashing in.
If you don't have any other option but to use a credit or debit card, we recommend using a separate checking account. That way, you'll have better control over your betting cash. Having a dedicated account is also safer, because your main bank account won't be vulnerable if the checking account is compromised.
Last but not least, always be cautious when giving your credentials. Legit sites with legit payment options will not ask for sensitive account related information. If a website is asking for info that you would otherwise never have to tell them, look for a different option instead.
Step 3 – Pick and Plan Your Matches
You're all set up to start betting; all that's left is to pick a betting market. Different sites offer different markets, even for the exact same match. Most websites will let you bet on winners or losers. However, some markets could have something as specific as first blood, number of rounds, or top frags.
You can always bet on your favorite teams when they play. However, if you're more focused on the betting aspect of things, it pays to keep track at the latest trends. Keep an eye out for teams or players that are performing well. Furthermore, compare their stats against their opponents. Doing this will help you make informed bets, increasing your chances of winning.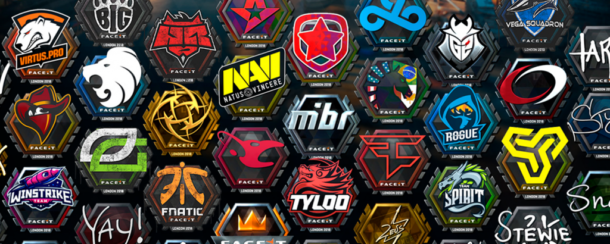 Plenty of teams to bet on, so keep an eye out for the good ones!
If you're new to betting, we suggest starting out with "comfy" or "safe bets". These markets generally pay low, but they also have a lower risk of losing. Once you get the hang of things and you have betting cash to spare, you can try riskier bets for bigger pay.
Step 4 – Keep Betting… Or Cash In!
At this point, all that's left is to enjoy watching the match see how it plays out. You may want to keep note of crucial moments in the game to have a better assessment of the teams next time you bet. While you're at it, check out the next matches or see if there are big tournaments happening soon. This is because bigger bets tend to happen during major events like internationals or regional qualifier matches.
Did you lose a bet? That's okay; losing is just part of the experience. You can always bet on the next match or decide to cut your losses for today and try again next time. A good strategy is to set a limit to how much you want to bet on a day. This will prevent you from blowing it all on a single sitting.
If you already won enough bets, it might be time to cash in. Most people prefer to return their winnings for more betting opportunities. However, you can always split your winnings so you get to enjoy some of the cash you won while still allowing you to bet on future matches. Like with depositing funds, you'd also want to make sure you're getting paid via reliable payment methods to make sure you get the cash without compromising sensitive personal info.
How to Bet on CSGO – Conclusion
That sums up our basic guide on how to bet on CSGO. We hope this has helped you kick-start your betting experience. Remember that at the end of the day, betting is supposed to make spectating more fun, so go online and enjoy watching the pros!