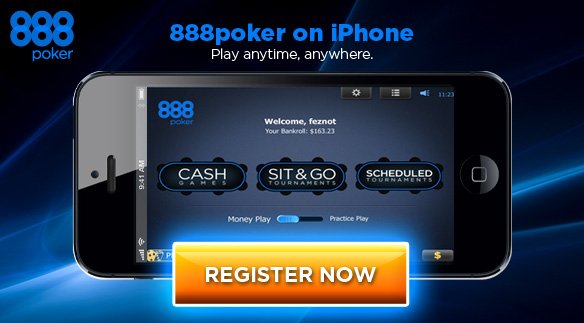 If you're a fan of playing poker, then the 888 casino poker app is certainly a must-download for you. Available from the Apple App Store and Google Play, this game app is available for almost any smartphone, and it's optimised to work well on any handset that you might be using. Whether you're an accomplished poker player or are still getting used to playing the game and perfecting your technique, this app is both fun and easy to use, allowing you to win games and become a better poker player in the process. Read on for our review of the 888 Mobile Poker Game.
Play Poker Anywhere
One of the best factors about this app is that it allows poker enthusiasts to play their favourite game everywhere. Rather than having to go out and visit the casino every time that you fancy a quick game, you can simply open the app on your smartphone no matter where you are, so long as you have a working internet connection. So, if you tend to get bored when you're commuting home from work on the tube, for example, you can take advantage of the free Wi-Fi and win some extra money at poker instead!
Convenient Deposits
When playing poker at the 888 casino, you'll find that there are numerous options for depositing your money. Whether you prefer to send money via bank transfer, pay with your debit or credit card, make sure that everything's as secure as possible with PayPal or use a lesser-known method of making a payment to your 888 account, there is a huge range of convenient deposit options available to make sure that you have the best experience.
Take Advantage of Special Offers
If you have never played poker with 888 casino before, then you will be able to take advantage of the range of special offers that they have available for new users. When you sign up as a new player, be sure to look out for any deals such as free money to play with when you wager a certain amount. At certain times, you may even be able to claim a free join-up prize without depositing any of your own money at all!
Customise Your Experience
Although poker is a fun game to play, many people can quickly become addicted to gambling and this can lead to problems for them. 888 poker is committed to ensuring that you have a safe and fun poker experience without worrying about your finances or being unable to stop playing, so they offer a range of features to keep you on track, even if you have an addictive personality! For example, you can set deposit limits in order to make sure that you don't overspend, set time limits if you're worried about spending more time than you should playing, and you could even lock your account to take a break for a few weeks or months if you feel you need to.
Games to Choose From
When you download the 888 poker app for your smartphone or tablet, you will be able to choose from a great range of poker games that are on offer. With classics such as Texas Hold'em available, you can practice and improve your skills to take part in poker tournaments. If you're tired of playing poker, then there's no need to worry – a range of other table games are also available, for example Blackjack, Slots, Roulette and much more.
If you're a fan of poker, then what are you waiting for? Download the 888 casino app to your smartphone or tablet today and start playing.