Whether you are tired of your everyday routine or just wish to bring your career to the brand new level, the prospect of launching your own web design company is definitely a challenge. At the same time, the decision to start the business may become that very crucial step, which will change your whole life, opening new perspectives. It's really hard to deny that any start up implies serious investment of time, effort and budget. There is much you should do in order to get started successfully and there are lots of nuances to consider to reach the goals you set.
You certainly have to realize, whether your current degree of web design awareness will be enough to build your own customer base or you need to improve your skills to gain success. What's more, you have to decide what budget you are ready to invest into the project and what services/products you will offer to the target audience. These issues may seem not that overwhelming at first sight, but when you get closer to their essence, you will realize that they are quite complicated and time-taking.
Don't be scared, however, because thorough and responsible business strategy will help you work out the detailed web design company creation plan, considering the most vital nuances. To simplify the process for you, we are eager to provide the tips and recommendations shared by Howard Steele, a proficient web design expert and the author of a popular blog https://superbwebsitebuilders.com, where he unveils the basics of launching websites via the use of website builders. Howard started his career over 15 years ago to now become a professional in website development. Have a look at his recommendations that will help you gain the expected result:
Pick Your Target Audience. Web design niche involves numerous aspects. To gain success, you need to decide what area exactly you specialize in and what audience you plan to target.
Decide on the Products/Services to Offer. Are you done with the niche selection? Then make sure to outline the products/services you will offer to your clients. It's important to realize in advance, whether you will deal with local or international clients, what pricing policy you will follow and what areas of specialization you are good at.
Discover Your Real Abilities. Whether you have previously been involved into the web development business or this is your first try, realization of your actual abilities is the first key to success. Make sure you have a decent portfolio to offer to clients and get ready to present your skills on practice upon their request.
Analyze Niche Tendencies. Web design niche is, probably, one of the most rapidly changing industries. To be ready to meet the demands of your clients, you should be aware of contemporary niche tendencies. Otherwise, you run a risk to lose your clients, who may give preference to more experienced competitors.
Ponder Over the Strategy. No matter how successful, alluring and promising your ideas seem, you won't go without a detailed business strategy. This is where you should outline your objectives, pricing, types of services/products and other crucial details to get back to, while working on your startup implementation.
Mind the Choice of the Best Web Building Software. Among a stunning variety of web design tools, there are those that do not only ensure decent result, but also make the process of its achievement easy and hassle-free. It's a widespread misconception that the more complicated the software is – the more professional website you get. Contemporary website builders that come with extensive White Labeling opportunities, Affiliate Programs and powerful feature sets prove to be a worthy alternative to complex programs. They don't imply any preliminary coding knowledge, offering impressive web design tools and options instead. Let's talk about two popular website builders that are currently among the niche leaders in the contemporary web design market. Welcome IM Creator and uKit!
IM Creator – is a new generation website builder that offers an advanced feature set, which delivers exceptional web building experience. When it comes to professional website development, the website builder offers the White Label – the solution, which lets web developers provide their customers with an absolutely self-branded web design environment. The feature makes it possible to use all the advantages and tools IM Creator is known for under your company name. You don't have to implement your own design customization ideas, email and marketing features or select the domain name elsewhere – the system already comes with abundance of integrated options you can make use of.
What's important, the website builder will be completely integrated into your brand style and identity. This is revealed in lots of website details and elements, starting with color palette, background, logos and up to complicated integration options. When upgrading to the White Label Plan, you'll get a branded product that will be almost ready for your clients, who will further be able to customize it with regard to their needs.
The advanced White Label feature will come up to the requirements and objectives of web design agencies that have already established trusted web presence and have enough clients to create custom made websites for them. If there are any web design-related problems, the support team of the service is ready to help you solve them any time of the day. You can also browse online manuals, watch video tutorials and visit the support forum of the system to find answers to your questions or share your own expertise. IM Creator currently offers 3 White Label Plans, the cost of which starts with $350 per year.
IM Creator Features
IM Creator has distinguished itself as a free website builder with advanced feature set. The system can be used both for commercial and non-commercial purposes. It comes with handy WYSIWYG website editing options, unique web design approach, multilingual support, powerful integration tools and reasonable pricing policy to cover the needs of all user categories. Let's review the major feature set of the service now.
eCommerce
If a client has an idea to launch a web store, but doesn't know what to start with, you can easily create the basis for the eCommerce website with IM Creator. The website builder offers a decent eCommerce engine that allows doing that in the shortest time possible by using the standard feature set. A client will further be able to customize the project, proving unique content and making the required settings without your assistance or coding skills.
Blogging
The same is about the blog. Due to the integrated blogging functionality, IM Creator lets a web designer lay the foundation for a blog, choosing among a variety of templates, blog types, news feed structure options etc. Having got ready-made projects, your clients will be able to fill them with content and adjust the settings to successfully publish and promote them afterwards. The system allows selecting blog layouts, embedding media files, integrating widgets, customizing blog design etc.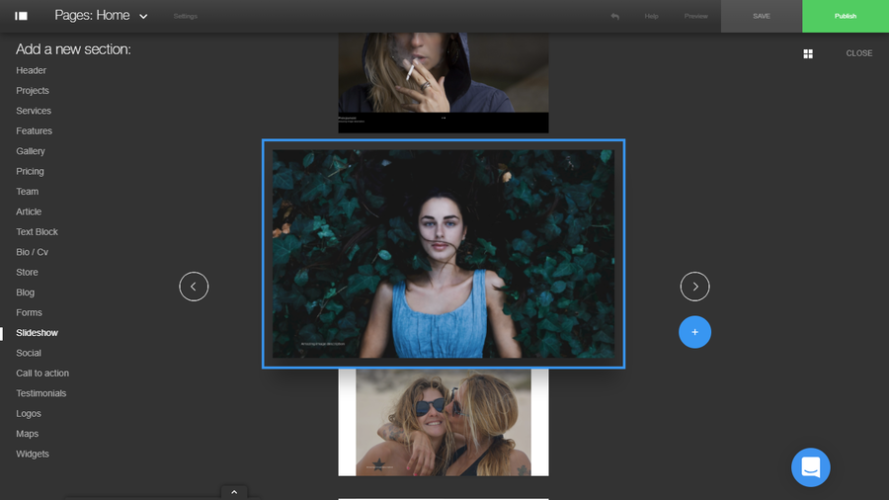 Multilingual Support
In the world of today, having a multilingual website is not a whim, but a must. This is especially important for users, aiming to target foreign customers and dealing with international partners. With IM Creator, you can set up and manage websites available in several languages based on the demands of your clients.
Template Gallery
IM Creator templates are customizable and fully responsive. Their quality and modern designs just cannot leave your customers indifferent. As far as the website builder doesn't have a template switch option, it's crucial for a client to pick the right template from the start and individually customize it. IM Creator comes up to this requirement, letting your clients personalize their websites either individually or under your guidance.
Powerful Integrations
IM Creator makes it possible to integrate multiple widgets and tools into a website upon your client's request. Whether you have a task to add social media buttons, Google Analytics, Maps and what not, the system lets you handle it with ease.
Search Engine Optimization
Most clients, who order ready made websites from web studios, intend to promote them on the web to generate profit and build their own customer base. IM Creator-based websites are well-optimized for the search engines by default. It's up to you to make the required SEO settings on your own or to assist your clients with that, if needed. The service lets you fill out meta tags for all website pages, integrate statistics collection tools, upload favicons etc.
uKit – is a small business website builder, which is by far one of the simplest and the most affordable web building tools. The platform comes with intuitive dashboard and user-friendly interface that ensures ultimate convenience and ease-of-use. The website builder is mainly used to launch business websites, landing pages, small portfolios, but it can also work well for small-to-medium eCommerce websites. uKit is a great bet both for inexperienced web designers, who are just starting their career, and for proficient website developers, who work on the creation of projects for clients.
If you are right about to start your web design career and need a quality yet simple web building tool to get started with ease, then uKit is certainly the option to consider. The website builder offers an opportunity to join its advanced Affiliate Program that makes it possible to attract new users to the system and avail financial reward for this. You don't have to make something up to generate profit, while using the website builder. The Affiliate Program comes with understandable and generous terms that will help you get the revenue, getting the percentage of payments made by users you've attracted to the system. Thus, the program offers 30% of the overall amount of payments made by users' you've encouraged to join the system. Additionally, it provides lots of special offers, access to the website's affiliate control panel, discounts, multiple profit generation opportunities and rewarding terms of mutual cooperation.
uKit Features
uKit comes with a broad range of features that contribute to the hassle-free and intuitive web development process, irrespective of users' web design experience and skills. Have a look at the most crucial of them now:
eCommerce Functionality
With uKit, you can start and manage a full-featured small or medium-sized eCommerce website. It is possible to do that in one of two ways. The first one implies the necessity to integrate uKit eCommerce widget into a ready-made website to further customize it with regard to your needs. The second option is to connect the Ecwid plugin, which will automatically turn a website into a web store with a corresponding feature-set.
Template Gallery
uKit template gallery is worth separate attention. The system comes with an impressive collection of designer-made themes, which are completely customizable and responsive by default. The templates are tailored to numerous business categories, the selection of which is represented at the website. Each theme encompasses pre-designed galleries, niche-specific images and even industry-focused texts. If you don't like them or wish to make them more personalized to come up to your business specifications, you can easily replace the available content with your own info. This is a matter of few clicks – not more. uKit features a convenient and user-friendly WYSIWYG website editor with a handy drag-and-drop option that lets users make the required edits in no time and with no special coding skills required. What's more, uKit users appreciate an opportunity to switch the templates on any stage of the web design process, if such a need occurs.
Integrations
The system lets you integrate with two powerful services, namely AMO CRM and SendPulse. The first one is the service of order and customer accounting, which allows tracking your website performance and client behaviour. SendPulse, in its turn, lets you collect your clients' contacts via the website. These data (email, phone, name, age etc.) will get to your database through the feedback or order forms customers will fill out.
Conclusion
The decision to start your own web design company is worth the appraisal, but you should get ready to face multiple challenges. This concerns both newbies and web design professionals – the fact that you have niche experience doesn't mean that you will succeed in business development. There are too many nuances to handle before you reach the desired result.
To boost your chances for success, you should be serious about choosing the right web building tool. It's quite easy to get lost in the amazing variety of website builders available in the web design market. Make sure to pick the right tool based on your industry needs, short- or long-term objectives and available skills. IM Creator and uKit target different categories of web designers, which may somewhat simplify your choice.
Both website builders are powerful in their own ways. Their approaches to the process of website creation as well as feature sets offered for this purpose differ as well. Just analyze your actual needs to select the platform that will work best for your individual web design endeavours.