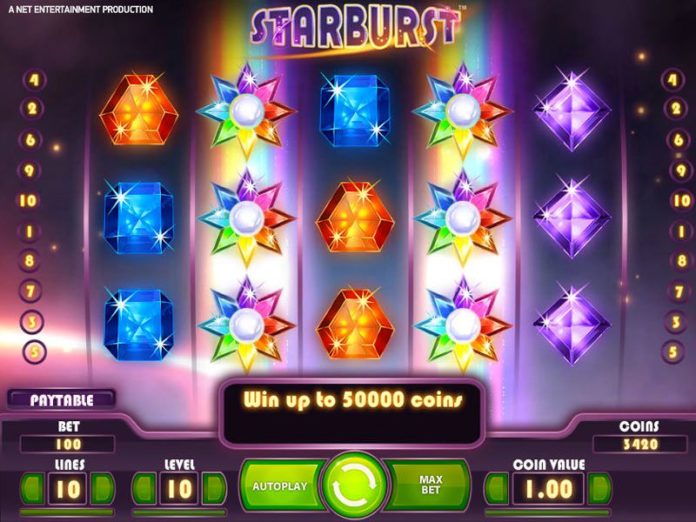 Finding good games to play is most probably our calling in life. Today, we will be talking about the slot games that are rising in popularity more than ever. With the progress in the gaming industry, the online slot games genre has sure been benefited with 3D graphics and mesmerizing effects, not to mention the interactive bonuses that games provide nowadays.
Slots aren't limited to the basic reels and winnings anymore. There are themes, story, background, unique bonuses, huge jackpots, and whatnots.
Let's talk about five of the most popular slot games that we recommend and why do we think they have gained popularity and why they deserve it.
1. Starburst
Starburst is hands down one of the most popular online slots game. No slots game list can be complete without talking about Starburst. This popular game is developed by NetEnt. Starburst has sort of become a household name for slot players. Starburst is a space-themed game with 5-reels and 10-pay lines.
2. Berryburst
Berryburst is a sequel to the popular Starburst we just talked about. The difference between Berryburst and Starburst us what you burst. While Starburst features gems, Berryburst features fruits, and the graphic is so realistic that it holds your attention.
3. Deal or No Deal
You must have heard of the popular TV game show. It was very obvious that it would sure be turned into a slot game for gamblers around the world to enjoy. Come on, it was pure gambling right on television. So, that has happened. Deal or No Deal is an online slot game with 5-reels and 20-pay lines, also a progressive jackpot. The game matches the exact essence of its TV counterpart, down to the audio interactions.
4. A Night Out
Why do you think this game is on our list? We at Unigamesity love our Friday nights and this game reminds us of exactly that. It has all the elements of a successful night out – cocktails, lights, and action, a lot of it all. You have to join Kat, Roxy, and Cindy on their night out and have fun playing the game. There are a ton of extras in the game and a progressive jackpot to keep you hooked.
5. Beach Life
Do you know why this game is popular? The average jackpot payout being in excess of $2 million is the answer. The game isn't that appealing visually but the winnings are big enough to hold anyone's attention, which is why even with basic graphics it has managed to become a very popular slot game for players.
These are our top picks for slot games if you are looking for some to play. Not only the winning, but the playing experience is made better because of the general ideas of these games as an individual capturing story. We love to play out a game that has any one of these things – a good backstory, good graphics, something really relatable, and of course huge progressive jackpots!