Playing Sims 4 means you want to bring your vision to life, especially regarding layouts and builds. It isn't even a question that the pre-built lots in the game are boring. Since personalization is the main highlight of Sims 4, it isn't surprising that people often look for stunning house layouts.
If you are on a similar boat and want to make the most of your home layout, we have some tips and tricks to help you. What's great is that creating house layouts on Sims 4 looks pretty collaborative. You can take tips from other people and make the most out of the whole experience.
This article will explore some of the best Sims 4 house layouts that range from a cozy one-bedroom to a luxurious mansion with all modern amenities. We aim to ensure that the list contains something for every player.
Top 10 Stunning Sims 4 House Layouts
With some people's creativity and design knowledge, it isn't surprising that the list will be pretty comprehensive. However, we also wanted to help people create a dream home that's functional and aesthetic at the same time.
Related: 11 Easy Sims 4 House Ideas That You Can Try
Following are the top 10 options worth exploring:
1. Modern Farmhouse
Regarding the most popular trend of Sims 4 house layouts, Modern Farmhouse is one that everyone loves to get into. Designed by Sims 4 Creation, the house blends earthy and brown tones with the natural beauty of the yard and garden, accentuating the overall look. This is it if you want to build a sturdy, modern, yet cozy home.
Features include:
It's built using base game items, so you won't have to worry about buying additional articles for further expansion.
It features stunning wooden paneling around.
The kitchen in the house is equipped with modern elements with a touch of countryside features.
More on this can be found here.
2. Mountain Cabin
If extravaganza is your thing, the Mountain Cabin is a must-build on Sims 4 that you can explore. Designed by Kate Emerald, the design is eclectic and one-of-a-kind. It fits amidst the rocky landscape of the mountain, but you won't have to compromise on stability and safety.
Features include:
It is a three-story house with dedicated rooms for entertainment, a bar, four bedrooms, bathrooms, a spacious living room, etc.
This is the perfect build if you have a large Sims 4 family or want to get together with your large friend group.
The house is surrounded by thick greenery and nature, perfect for adventurists and lovers. The inside is warm and cozy.
The floor-to-ceiling glass panels ensure entry of natural lighting inside the house, which is also a positive.
You can find more of this here.
3. Tiny Apartment Building
Not everyone is a massive fan of large and spacious houses, especially if they don't have a big family in the game. For those players, this tiny apartment building is the perfect choice. It's quaint, eclectic, and modern. This is a 4-unit apartment where each unit has a unique style and interior.
Features include:
The apartment building's design draws inspiration from Japanese architecture and is in Mt Komorebi.
Each unit in the apartment features a different style and interior décor.
The kitchens are fully functional, and the bedrooms are spacious and quite aesthetically designed.
More on this is discussed elaborately in this video.
4. River Cabin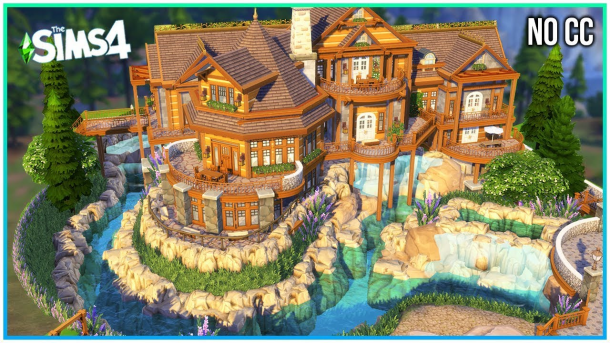 Another extravagant and majestic house layout on Sims 4 that deserves special mention is River Cabin. This one is also designed by Kate Emerald and features the typical cone-shaped roofs and is nestled in the middle of the rocky mountains with the free-flowing river down the side. The views from this house are breathtaking.
Features include:
Besides the conical-shaped roofs, the interior of this cabin is equally mesmerizing with the wood theme and the wooden furniture from start to finish.
The interior of this house is old-fashioned, something that most people genuinely enjoy. This is the perfect choice if you want a vacation home for your Sims 4 characters.
As for the area available, the spacious living and dining room can fit up to 14 Sims characters so that you can host parties easily.
You can use the exterior of this cabin for camping and eating your meals amidst the nature.
Complete explanations and steps are explained in this video.
5. Italian Villa Family Home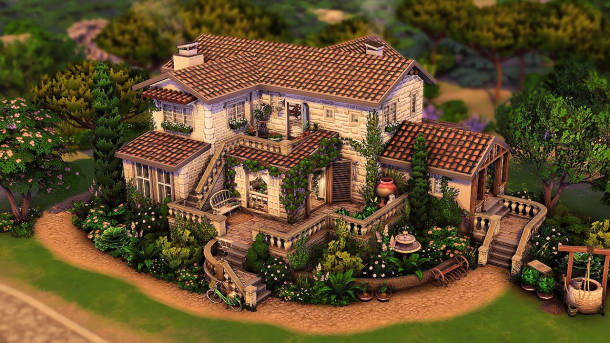 You cannot see this and not want it for your Sims 4 characters. This Italian country estate is the epitome of luxury and comfort – packed into one. It's majestic but, at the same time, has a laid-back and rustic vibe to it.
Features include:
The highlight of this villa is the contemporary furniture scattered all around the house. It's very modern-esque but homely too.
The villa has two bedrooms, an open kitchen, a yoga room, a balcony, a home office, etc., and will easily fit a family of three.
Coming to the outdoors, you get a stunning pool and garden covering the house's perimeter.
For a more detailed understanding of the house's layout and structure, watch this video.
6. Japanese Townhouse
Let's downsize and look into more realistic, modern, laid-back options. The Japanese townhouse, designed by Jessicapie, is perfect for a small Sims 4 family that wants a zen space for themselves.
Features include:
This Japanese-themed home has everything a traditional Japanese townhouse would have, including rock gardens, a wooden structure home, roof awnings, etc.
The stunning wooden structure of the house is not just prevalent on the exterior, but the same reflects on the interior too.
The interior includes neutral furniture with wooden elements to match the theme and décor of the place.
You can find an elaborate explanation of the structure and the design in this video.
7. Modern Apartments
If you want your Sims 4 home to emulate something from real life, these Modern Apartments designed by Seenderella are the perfect options. The units in these apartments are slightly larger and fitted with much more modern amenities. However, the home has influences from Japanese design elements.
Features include:
To build this apartment, you'd need access to the Snowy Escape expansion pack to access the essential building elements.
The functionality and décor, paired with all the modern amenities in this home, is one worth considering.
The indoors of the home are integrated with different types of house plants, which make the area look more lively and fun.
The outdoor balconies are also quite functional, giving the families a glimpse of what's happening outside their homes.
A complete video and explanation of the design is available here.
8. Tiny Loft

If you are single in Sims 4 and don't want an elaborate living situation for yourself, this Tiny Loft house layout is perfect. Designed by Sims 4 Creations, it draws inspiration from the apartment-style living. Despite the size, the loft has all the modern amenities the character would need.
Features include:
This open-plan apartment has a loft-like design that's perfect for a single Sims 4 character to live in.
The loft comes with a kitchen and living room with fully functional appliances.
There is no way to use the space underneath the bed, which is a downside to this design.
The characters get a separate home office space, so you can get your work done from the limited space in the loft.
Further details and illustrations are available in the video.
9. Huge Family Mansion
Let's get back to some majestic house layouts on Sims 4. The Huge Family Mansion, designed by Jessicapie, is another one you can't forego. It's conventional, perfect for big Sims 4 families, and has everything you can dream of.
Features include:
This large family mansion has a terraced garden and a home gym with spacious bedrooms, a living room, a kitchen, etc.
The front of the house welcomes the residents and guests with a foyer and luxury fountain, which is breathtaking to watch.
Besides that, the front yard has a faux garden, a separate entertainment area, a basketball court, a patio, etc.
The house is perfect for a 6-member Sims 4 family and is excellent if you want to raise your children somewhere safe and sound.
All the details about the build and the features are in this video.
10. Rustic Family Log Cabin
The last on the list is another family home designed by Jessicapie. More than a primary home for your Sims 4 characters, we'd recommend using this as a vacation home. The rustic design of this log cabin draws your attention right away. Despite that, it comes with all the modern amenities you'd need to sustain and accommodate different types of Sims families.
Features include:
The entire house is a log cabin with a wooden theme and elements from top to the bottom.
The house's outdoor area has a campfire pit and is perfect for hosting campfire nights with a large group, singing songs, and eating smores.
The house's interior has a very laid-back and rustic vibe with a contemporary and modern design, including the latest furniture, and hanging lights.
This is a four-bedroom house, making it ideal for larger Sims families.
Watch this video to get a rundown of all the nitty-gritty to create this home layout for your Sims characters.
Also read: 5 Best Sims 4 CC Websites [2023]
Conclusion
In conclusion, these Top 10 Stunning Sims 4 house layouts exemplify the creativity and versatility that the game offers to players. This article consists of diverse options to meet everyone's likes and dislikes. With the right resources and elements in place, you should be able to replicate these house layouts on Sims 4 in no time.