Internet gaming has reached an all new level with advanced technologies on HD graphics and crystal clear sound effects. However, not everyone is prefers playing those heavy and complicated games.
There are huge segments of online gaming enthusiasts, who are more than happy playing light games like the Bubble Shooter. It is the kind of game that can help you in relaxing your mind, after you have had a long and hectic day at school or your office.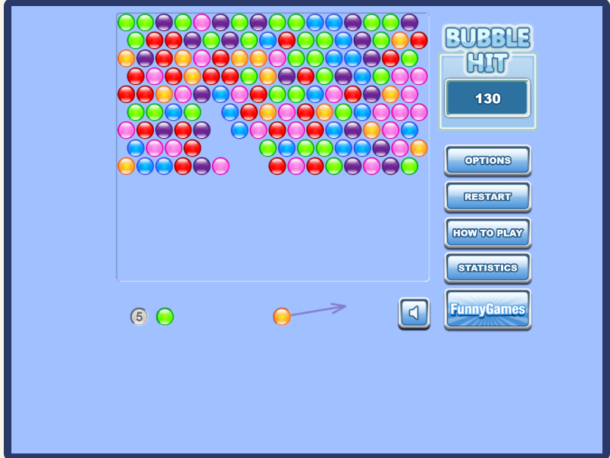 It is the kind of game that it is simple to play, with no great surprises or twists in plots. All you will need to do is match the bubble you get, with other same colored bubbles on the top of the screen, and shoot. When three bubbles of same color come together, they burst and disappear.
With some experience and practice, you will actually be able to match more balls, and pop them to earn good points. Some say that it is even possible to pop up to 12 bubbles with a single shot, but you will need to get real lucky to get an opportunity to do something like that.
These days you will come across many variations of Bubble Shooter games. Unlike the classic bubble shooter, these games do not give you unlimited time. You will need to match and shoot the bubbles, before the stack of bubbles reach the bottom of the screen.
Have an uncomplicated but clear strategy to earn more points:
To play the Bubble Shooter, you will need to have a simple at clear strategy, in order to gain more points, before the game gets over.
You will get more points for popping more bubbles, but at the same time, you should also make sure that the bubbles stack doesn't keep coming too low on the screen. Therefore, while you aim for firing more bubbles on the top of the screen, you will also have to make sure that you pop off the lower ones first.
Once the bubbles keep coming too low, you will feel the pressure of trying to pop them off. In the process, you might shoot the bubbles in wrong directions, or even miss the same color balls.
Bubble Shooter is a cool online game, which you can simply start playing without having to register on the websites. Just choose any of the variations that you want, and get started with it. It is as simple as that.
These games are free, but you might have to wait for the advertisement to complete before you get to play the game. Some of the good websites allow you to skip the ads after 5 seconds, and start playing the game.
As you keep playing these games, you will develop skills to score better points. You will be surprised to know that the classic Bubble Shooter was introduced in 1994 and they have not stopped ever since.
This game has been attracting the attention of more and more fans over the year, because it is the kind of game that builds up fun and excitement in the players, without them having to stress too much.
Unlike the heavy internet games, you won't have to keep playing for hours to complete the missions. The games are short, and you can keep repeating them as many times as you want, if the time permits. If you are looking for fun and short games on the internet, then you surely try out the famous Bubble Shooter.