Adult MMOs are not really games for those with the filthiest minds. They are basically regular MMOs that feature some violent content, as well as characters that expose more skin and sometimes there's a bit of sexual innuendo or even content in the game.
The first company that introduced the concept of "18+ MMO" was ACTOZ Soft back in 2002 when they described their A3 game as an adult MMO. Since this sounded really well to the audience and the public was extremely curious to give it a try, more and more companies followed the route, creating some really good games in the process.
And today, we're going to talk about the best adult MMOs to play today, especially if you haven't since they've been online for a while. Some of them are a bit old, but they're still nice and fun and you can easily fall in love with the characters. Or at least get some much needed eye candy!
Scarlet Blade
Scarlet Blade is probably the sexiest MMORPG ever – and it is developed by LivePlex. It provides various sexy but lethal female characters for players to choose from. When these attractive characters dress up in various giant mechanical armors, the high-exposed models have an amazing visual impact.
Of course, put aside the mature contents, Scarlet Blade is still worth a play. Players need to choose their faction and participate in the multiple PVP battlefields, such as 50v50 and 80v80. And unique transformation system that gives you the power the ultimate warrior would possess, also makes the game much more interesting. The game is rated M by the ESRB – and it should be no surprise that's happening. But give it a try – it is beautiful!
Vindictus
Although not as adult-oriented through character design as other games on this list, it still makes it here because, well.. there is some nice eye candy for us all.
Released all the way back in 2010, the game has aged well and you will agree with me if you only give it a try. It's no Scarlet Blade, but it's fun!
TERA
TERA (short for The Exiled Realm of Arborea) is a massively multiplayer online role-playing game developed by Bluehole Studio. The game's Western markets release was actually censored a bit, but that's still not a problem because it offers a lot of skin if you so choose to equip your character, so that more mature audiences will be happy.
This one is also a veteran in the MMO world, proving that it has a lot more to offer than just beautiful female characters and the occasional huge statue of a bikini-wearing elf.
Blade & Soul
Become a warrior of legend as you journey across a breathtaking world where martial arts and mythology meet, seeking retribution against the malevolent forces that stand against you.
Like the crane that soars on the wind, explore a beautiful, cinematic world like never before as you use the power of windwalk to glide across forests, dash across rivers, and jump over mountains. See the world inspired by the distinct visual style of acclaimed artist Hyung Tae Kim as you travel the land. And prepare to meet some of the sexiest characters in a MMO today.
Aion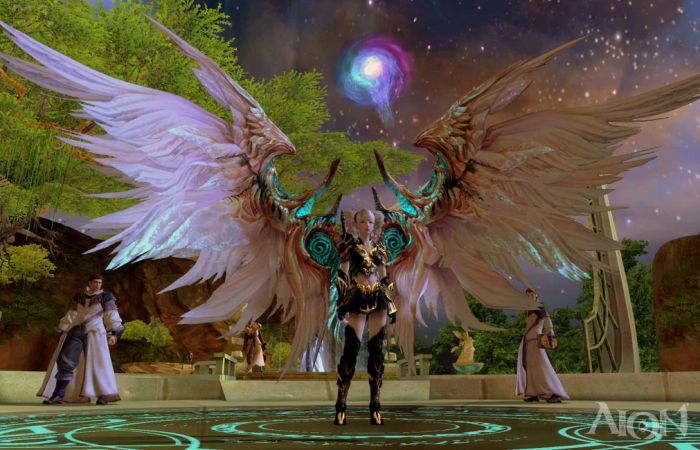 In Aion, you are a winged Elyos or Asmodian, sworn enemy races, exploring a world of breathtaking beauty ripped asunder by a celestial war. In this stunning massively multiplayer online roleplaying game, abundant solo adventures, intriguing epic group quests, challenging dungeons, and massive Legion raids hone your battle skills to new heights.
Created by Ncsoft and launched all the way back in 2009, this game will definitely offer the eye candy adults sometimes need. Or want. Or deserve.
Are there other adult MMOs that you'd like to share with our audience? Let us know by sharing your favorites in the comment section below!