Unreleased CastleVille Buildings: SPA, Conservatory and Clock Tower
Zynga is hard at work on creating new buildings for our CastleVille kingdoms and they have at least three new structures ready to be released in the game when the time is right (and probably that will be pretty soon!). The three unreleased buildings that you can check out in the images below are the SPA, the Conservatory and the Clock Tower.
These new building will increase your Castle Points quite a bit (click the image in the corner to see all the details about the Castle Points changes), so it will be very interesting to see them released in the game.
At the moment, there are no details regarding the release date of these new CastleVille buildings and it's not clear if we'll be able to get them as rewards from completing missions or they will simply be released as extra content in the market. I will sure let you know all the details as soon as I have them. Until then, though, I can share with you some images on how these new buildings will look like, so check them out below:
Unreleased CastleVille SPA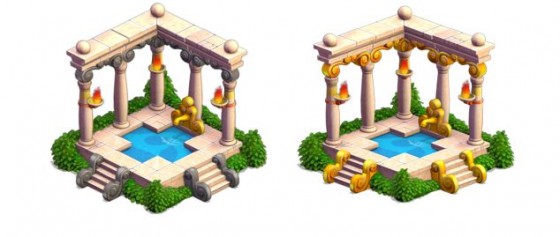 Unreleased CastleVille Conservatory
Unreleased CastleVille Clock Tower
[source]